KIMO FOR CALIFORNIA STATE ATHLETIC COMMISSION (CSAC) EXECUTIVE OFFICER

Click on the image on right to see KIMO's letter to the CSAC
Please show your support by sending your support letters to Kimo@NewEraFighting.com and I will forward them on to the CSAC. Thank you for your continued support!!!
WORLD's TOUGHEST MAN CONTEST
GOING ON NOW
TRYOUTS FOR FIGHTERS (MALE AND FEMALE) AND MODELS
WILL BE HELD: SOON!!!!
Posted Date : 01/29/2009

Finalists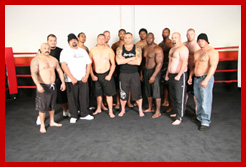 Meet just a few of the contestants that made the first round of tryouts.
Click Here
Compete for the title of "THE WORLD's TOUGHEST MAN"
We are in the process of looking for the WORLD's next TOP FIGHTERs and MODELS. This next level of tryouts is open to anyone who is 205 lbs and willing to compete for the title of THE WORLD's TOUGEST MAN. This is a no politics INTERNATIONAL LEVEL TRYOUT . If you think you have what it takes and you are willing to fly out to Southern California to show your abilities we want you. We are taking applicants from ALL OVER THE WORLD for this event. Apply online below and we will contact you for our prospective 2009 tryouts. It is with great pleasure to see that our staff has been overwhelmed with entries for Male Fighters, Female Fighter, and Models. Submissions can be made by visiting our Superstars page or clicking on the link below.
Below are some videos for your entertainment. Please visit us on a regular basis to see more entertaining video and fight schedules.
Watch Kimo Vs. WWF's Bam Bam Bigelow. Will the wrestler win or will the fighter prevail. Let's watch.

| | | |
| --- | --- | --- |
| Posted Date : 10/21/2006 | more | |

Watch Kimo take on a 356 lb house of a human being. This is a real life David and Golieth fight. Let's find out who will win.

| | | |
| --- | --- | --- |
| Posted Date : 10/21/2006 | more | |

| | | |
| --- | --- | --- |
| Posted Date : 10/21/2006 | more | |

| | | |
| --- | --- | --- |
| Posted Date : 10/21/2006 | more | |